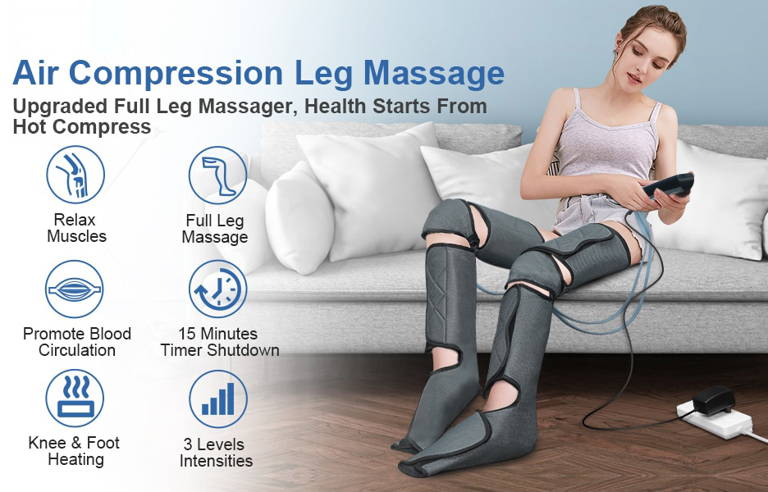 Don't You Hate Tingling Numbness, Swelling & Pain?
Your legs and feet are the hard-working parts of your body. At the end of the day, your legs always feel tired, at times even painful. This leg massager and calf massager offer the wonders of compression heating technology. It's your partner for relaxation!
Leg compression massager that covers your legs and calf up to the knees

Promotes circulation, reduces edema, and varicose veins

3 massage modes with 3 heat intensity settings

Fit for all - men and women, young and elderly, sedentary and athletic

Cordless, portable, and USB rechargeable
Start Enjoying Life Pain Free
Use 10 mins daily for rejuvenation

With the added heating technology, it is a leg compression massager that helps to improve blood circulation after long-term use. It helps to quickly relieve fatigue and reduces edema and varicose veins. Perfect for young adults for home and office use, and even elderlies.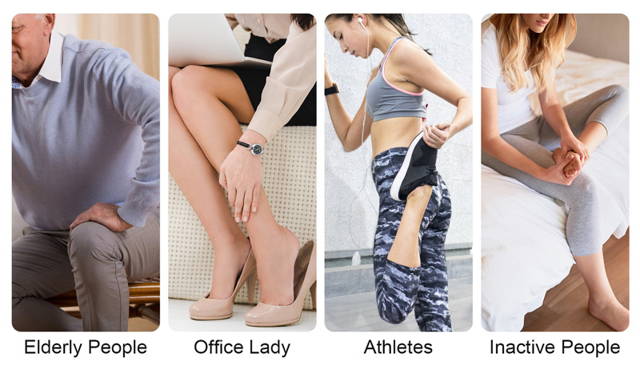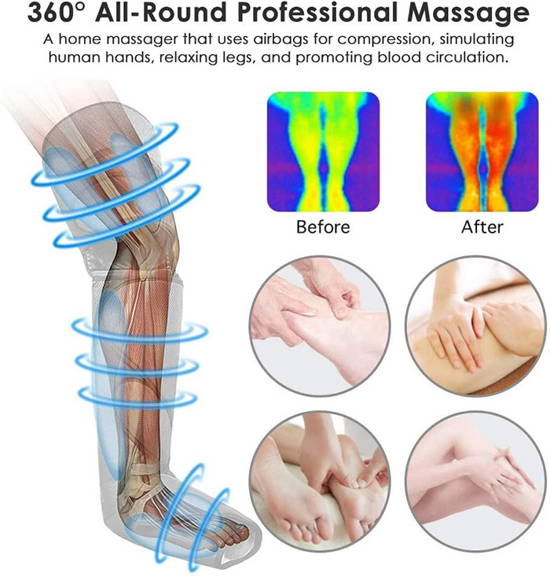 Enjoy All-Round Professional Massage
It's a leg massager and a calf massager in one to give you a wider and full coverage–your thighs, knees, calves, ankles and feet. It has 9 inflating air bags that fully wrap your whole leg to provide sequential compression. It mimics the human hands, performing kneading and stroking of tissues for relief of muscle pain up to the knee area.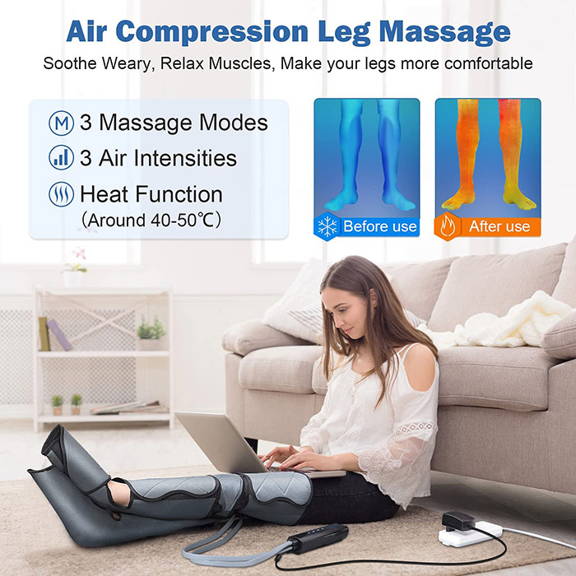 Convenient and Easy to Use
With a foot and calf massager in a cordless design, you will not be restricted by messy and tangled cables. It comes with a handheld digital remote controller with LED display, you can easily adjust 3 modes and 3 massage intensities. Easily folds into your luggage, it is lightweight and highly portable, take it wherever you want a massage.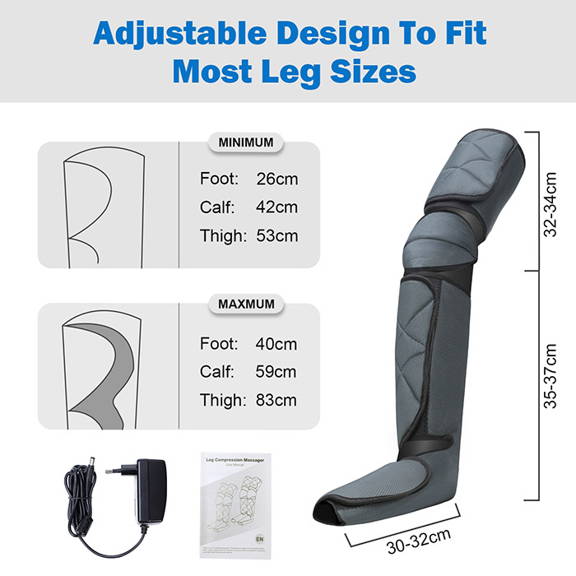 Fit-to-All Sizes and Skin-Friendly
With durable velcro closures, the leg and foot wrap sizes are easily adjustable to any size for different people. It can give you different intensities of compression. The maximum calf size is 23.2 inches for different people to use. It has a soft, breathable mesh fabric that is friendly to skin contact.
See What Others Are Saying
People who use This Leg Massager experience result almost immediately. Learn more from verified users below.
For a person with fibromyalgia
"People with fibromyalgia, Chronic pain.. this is for you . Same for sciatic nerve problems. I love this . I couldn't wait to try this . If you're a little chilly it has heat . The heat warms your legs up wonderful. The heat feels soo soo good , when your muscles and joints are hurting. Those with fibromyalgia can understand me . With fibromyalgia the pain is never in one place it runs, works great for it.. A lot of different settings. Pressure, kneeling. Calf, foot . I love it cause I can lay it the bed and use it . Feels like you have someone laying in bed with you messaging your legs !!!!"
"This leg massager is fantastic! You strap in your legs and plug it in and away you go. I could feel my legs tension disappearing. I've wanted a compression system since I started cycling. I finally found a reasonably priced one that is portable, compact and offers heat which my knees love after a long ride. After a hard ride, it makes your jelly legs feel like real legs again. Another great feature is that you can target just your feet."
"I use this leg massager at my desk to relief water pressure built up from sitting in front of a computer for too long. I'm 5'3, super overweight with large calves. The wraps is highly adjustable & extendable, and it molds to my body shape perfectly. The product is light weight, portable, and comes with many individual/loose parts that are string together by a thick cable. It seems a bit cumbersome at first, but it also comes with a nice looking bag, which you can shove everything in in a hurry or spend 30s folding everything up into the bag. My legs, calves, and feet felt much lighter after each session. Highly recommend it."
100% No-Risk Money Back Guarantee

Try Efforest completely risk free!
We have an iron-clad risk free for
30 Days Money-back Guarantee
that begins only when you receive the product! If you do not fall in love with our product, just send it back & contact our customer support for refund. No hassle question!
Frequently Asked Questions
Does it have to stay plugged in for it to work?
No, this leg massager is cordless one and it is rechargeable, so no need to plug in to work.
When will I receive my order?
All orders are expertly packaged, prepared, and shipped in one to two working days of ordering. We offer Free Shipping Worldwide and the typical delivery timeframe is 7-17 days due to peak season. Depending on your location, you may receive items later or earlier. All orders are shipped with the tracking number so you can track them every step of the way! Occasionally, packages may face delays beyond our control, such as customs or postal delays so please kindly understand.